Apple Watch Activity Tracking
Customizing the late-night user's experience by adding an Activity scheduling feature to the native Apple Watch OS interface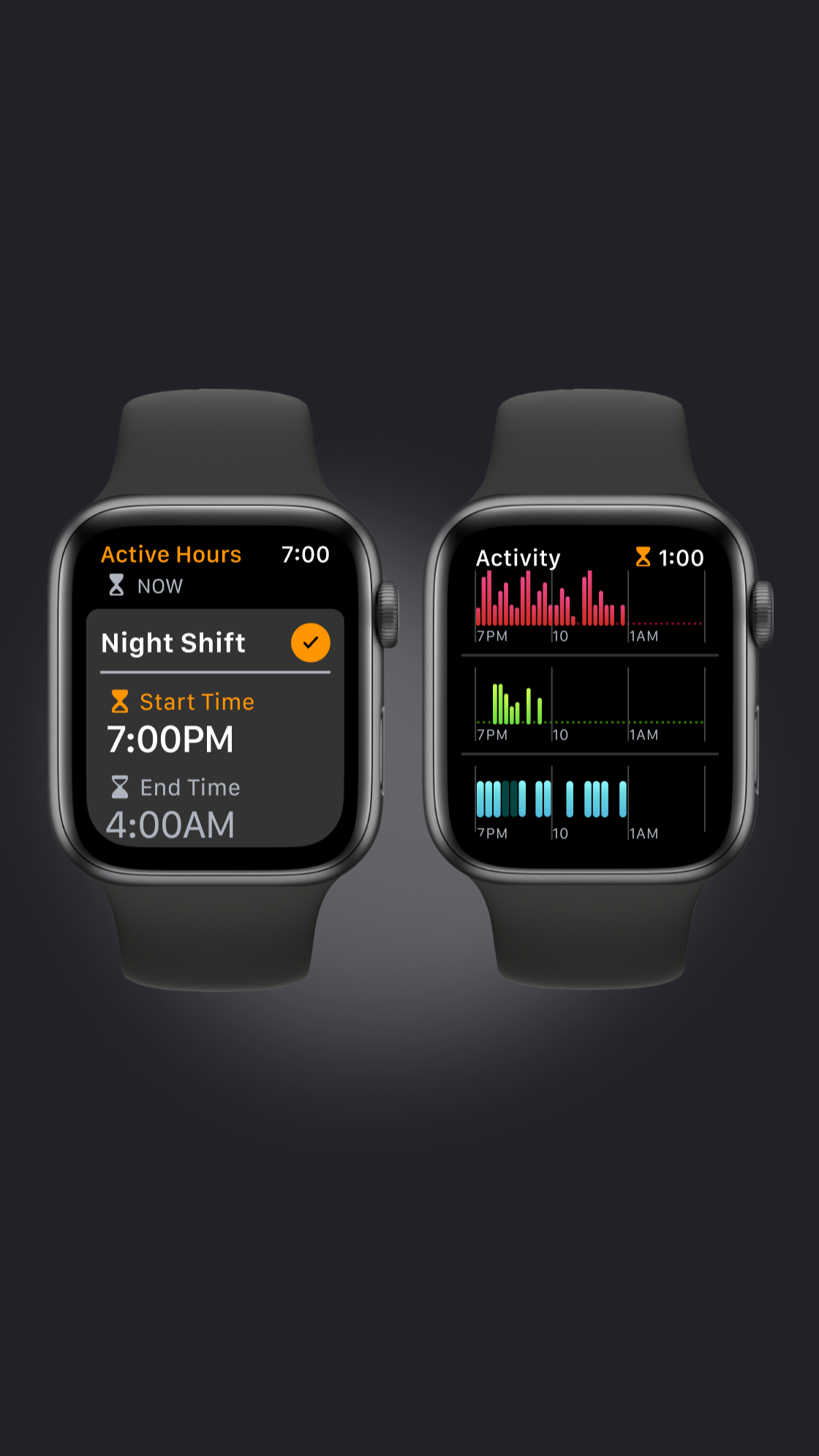 My Role
UX/UI Designer
User Research, Qualitative Data Synthesis, Sketching, Wireframing, Prototyping, Usability Testing, UI Design
Tools
Figma, Figjam, pen and paper, Google Forms, Maze, Adobe Photoshop, Zoom, Descript
Platform
Apple Watch
Timeline
3 Weeks
Overview
In 2015 Apple introduced its wearable smartwatch to the market which currently dominates the market, globally shipping 33.9 million watches in 2020. The watch utilizes the Activity app to keep track of your movement throughout the day. The Activity app provides a graph and illustrated rings to summarize how much you moved, how many minutes of exercise you did, and how often you were standing. The 24-hour daily activity tracking lasts resets at midnight by default. The only customizable variable within the Activity app is the daily goal amounts and many users' satisfaction is weakening due to this lack of customization. This is especially a problem for users whose day does not end at midnight.
For this project, I added an Activity app feature for a customizable experience to increase users' satisfaction.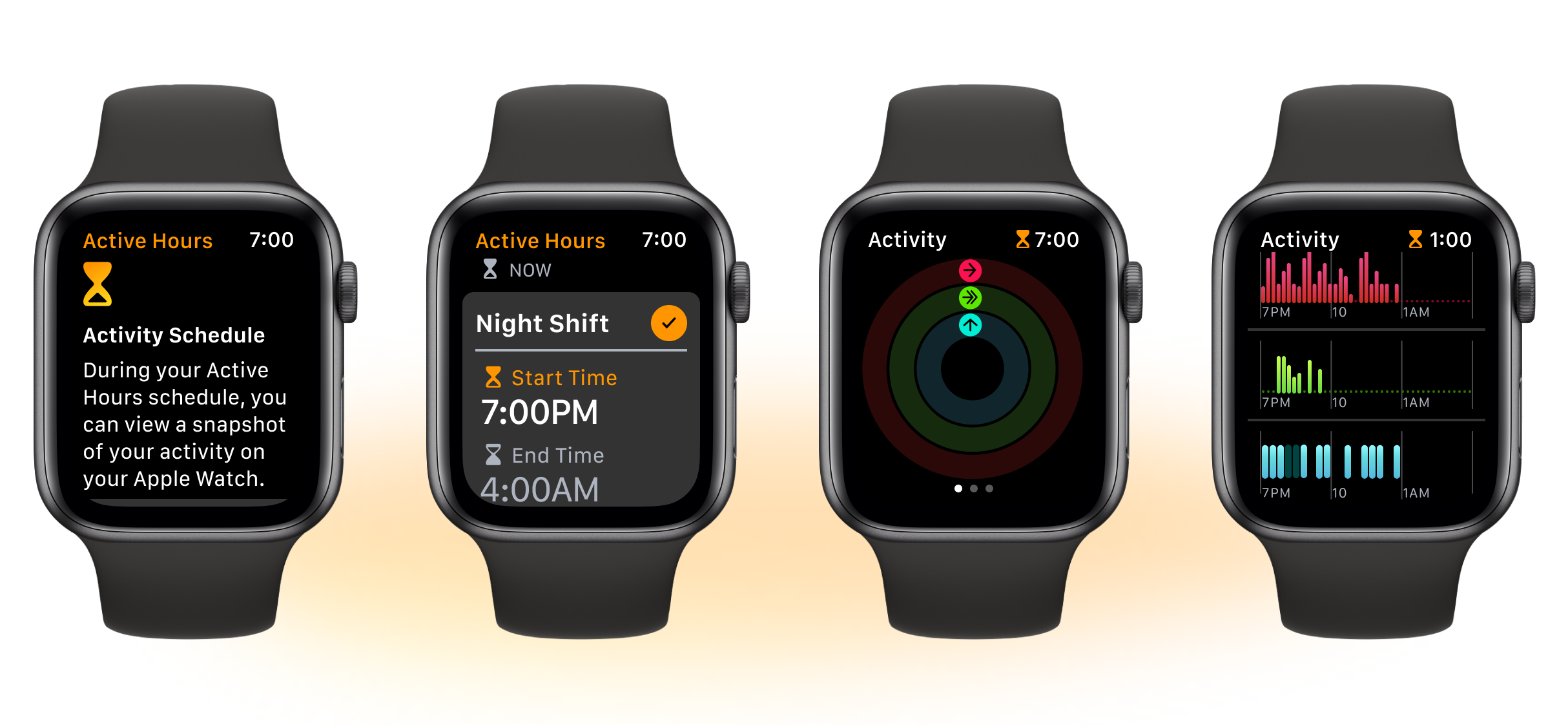 Understanding Apple Watch Users
User Interviews
1-on-1 interviews were conducted with five long-time Apple Watch users to understand what challenges may currently exist for them in order to find an opportunity for improvement. I began my research with some assumptions; I thought people would have challenges around 3 main tasks: communication, activity tracking, and productivity.
Night Crew has entered the chat
The most interesting interview insight was from a night bartender who was frustrated to a point of apathy about the Activity app on her watch.
She works 5 nights a week from 7 pm - 4 am and usually begins her day around noon. She showed me how her daily activity is split over two days and two graphs due to the Activity app resetting its tracking at midnight. She wanted to know how much she moved in a single night shift since one of the main purchase decisions of the Apple Watch was activity tracking. She's not satisfied with this experience.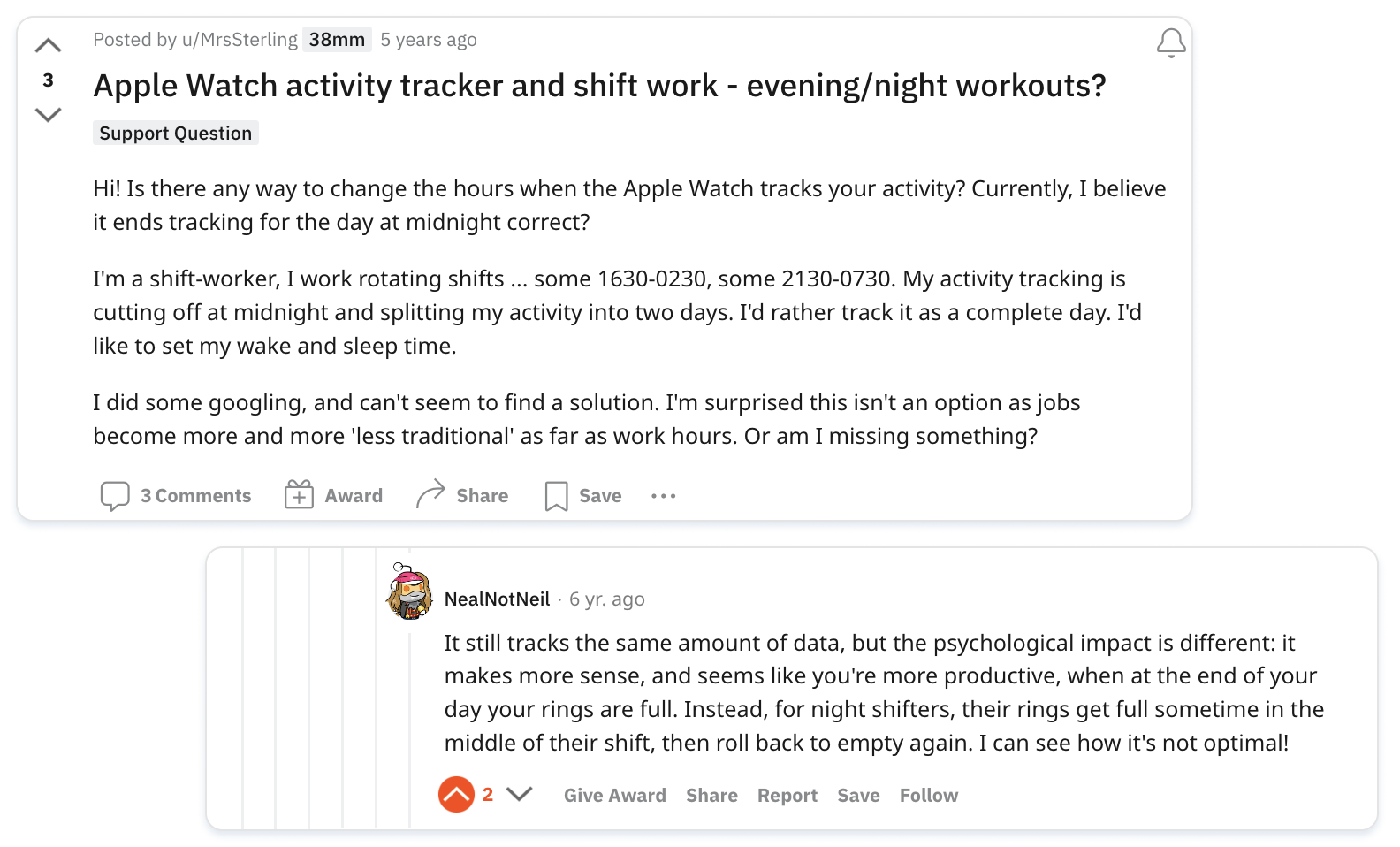 Reddit agreed
To validate the issue of activity tracking being split over two days with other users, I published an online survey targeted at smartwatch-wearing night shifters, I looked for solutions on Apple's community support board, and of course, went to everyone's most trusted research source, Reddit.
Reddit users had much to say about this nightshift data tracking topic.
The Reddit Night Crew agreed that the split tracking is a frustrating issue, causing many of them to find workarounds and other solutions.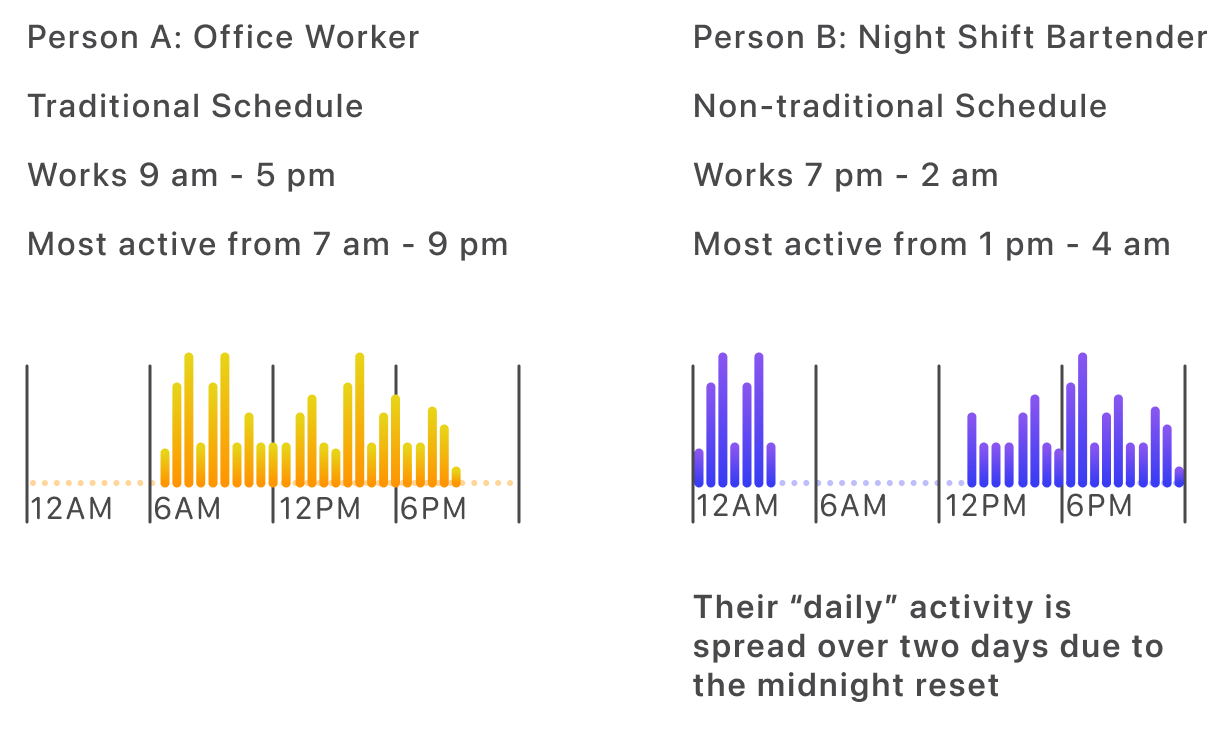 The Problem
Users whose lives aren't during the typical daytime hours aren't able to see their daily activity in one graph because the data resets at midnight.
This makes it challenging to see when activity tracking occurred and difficult to understand their progress.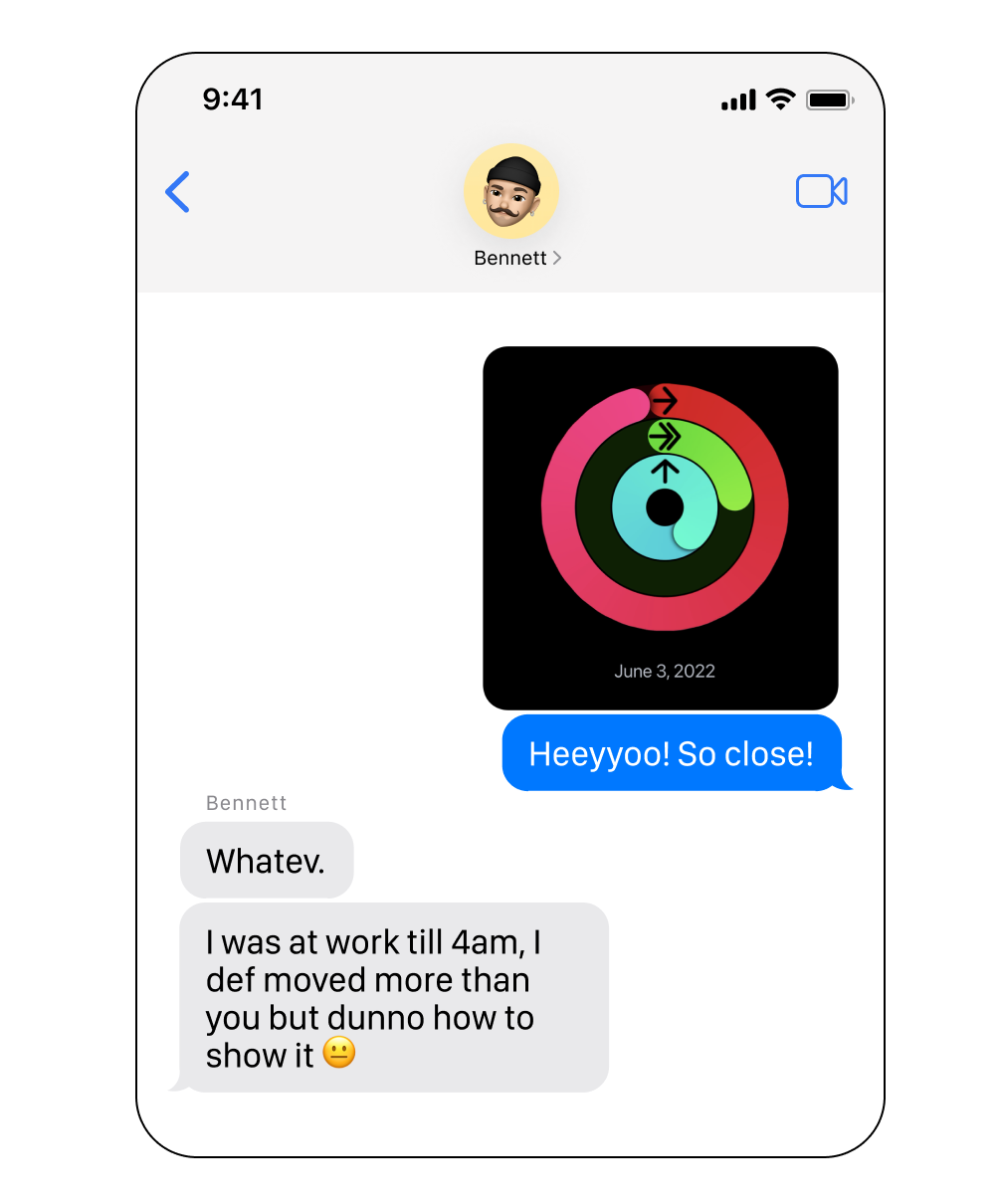 Please don't make me have to do math for this!
So why do we care about the night crew?
When the United States Labor Department last measured in 2018, 16% of the workforce worked non-daytime hours. Ziprecruiter revealed that in 2021 there were 14x higher night shift job postings due to the coronavirus crisis and supply chain issues showing night shift workers are in high demand.
In addition to the numerous jobs worked at night, many people have lifestyles that aren't during typical daytime hours. Solving this must-have feature issue for night shift workers, night owls, caregivers, late-night workout enthusiasts, restaurant workers, emergency service providers, news reporters, and people traveling to new time zones will ultimately provide a nice-to-have feature for other users.
For nighttime Apple Watch wearers, the existing activity tracking solution isn't working for them. The only solution on Apple's community support page is to submit a request for a new feature.
🧑‍⚕️ 🦺 👮‍♀️🍸 👩‍🚒 🏋️‍♀️ ✈️👨‍✈️ 🪖 🧑‍💻 🌃
Meet the night crew's team lead, Bennett the Bartender
To keep the non-daytime users' needs at the forefront of my design process, I created a persona that would represent them based on my research findings.
Bennett would serve as a reference point during the design process and as a way to measure the design's success.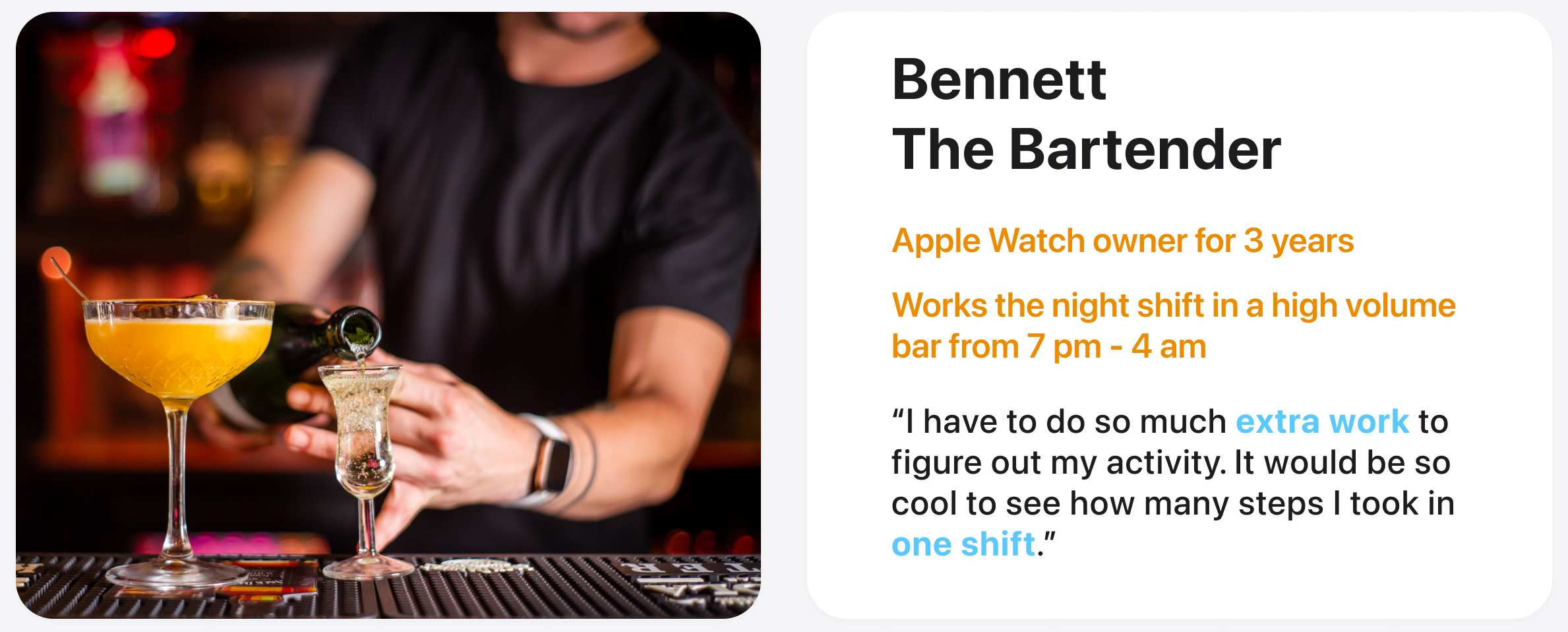 Bennett's ultimate goal is to see his daily activity altogether

Bennett is tired and short on time so he needs app features that are easy to use and understand

He needs to feel like his smartwatch purchase was worth the price
How can I help Bennett?
Coming from years of experience working in bars, restaurants, and swing shift IT work, these challenges for nighttime users resonated with me. I asked myself:
How might I empower Apple Watch users to customize their activity tracking according to their lifestyle in order to increase their satisfaction and maintain loyalty?
New View for the Night Crew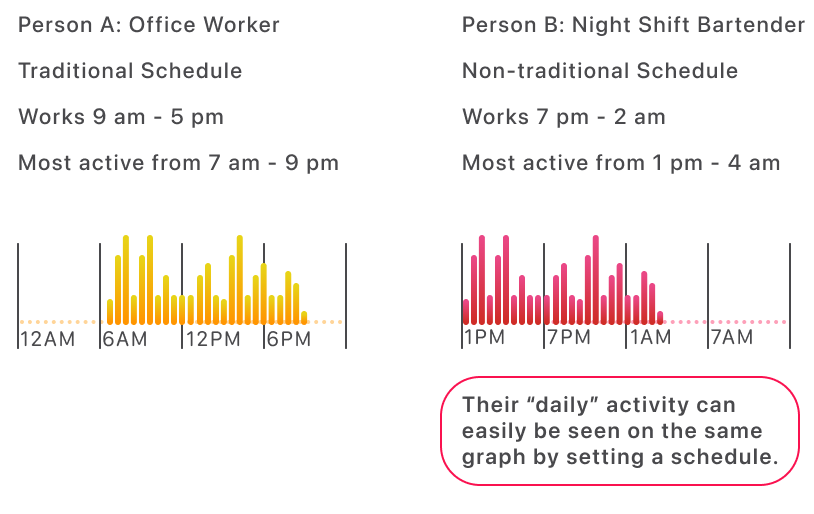 Solution Ideation
If the problem is that users can't view their daily activity data all at once, the solution is to design and add a feature to the Apple Watch's native Activity app that gives them the flexibility and power to change that view.
This setting would only be a "snapshot" of their data, it would not edit or change what activity has been tracked. The addition of this feature is to provide a more customized experience for Apple Watch users in a way that does not currently exist.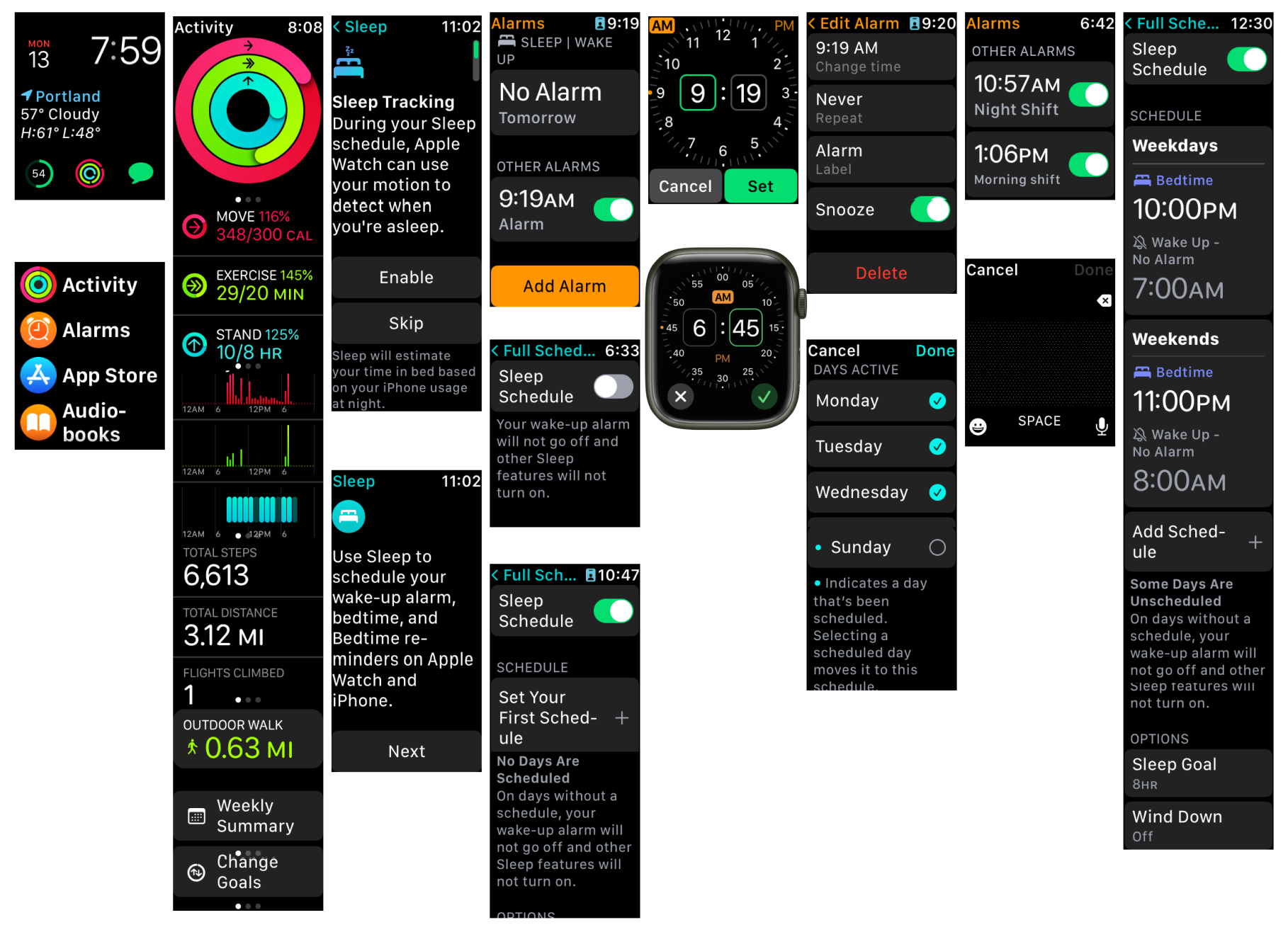 Discovering the fit
In order to understand the existing design patterns and current user flows, I conducted an app audit by taking screenshots of my own Apple Watch interface while navigating through Alarms, Sleep, Activity, Workout, Stopwatch, and Settings.
I paid special attention to patterns, colors, sizing, and progressive disclosure while I sketched low-fidelity wireframes. Doing this was very useful and helped me to understand how an added feature would fit in.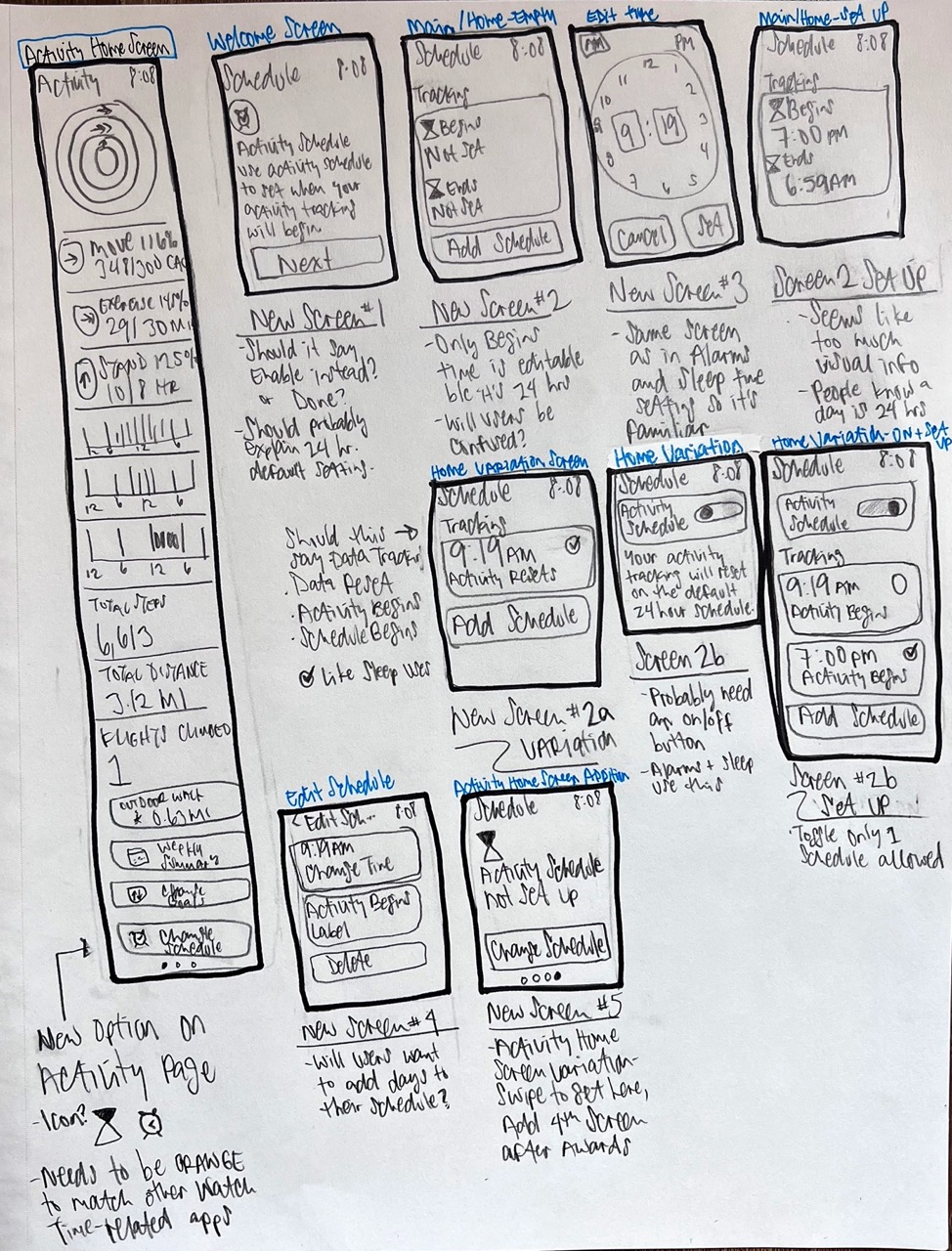 Designing the schedule
The app audit showed me Apple Watch has scheduling and customization in the Sleep and Alarm features so I was able to follow those design patterns in my low-fidelity wireframe sketches that would allow users to set a custom schedule for their active hours.
Maintaining design system consistency helps users know what to expect and increases learnability and memorability, which helps them navigate and reduces their cognitive load.
While sketching the wireframes, I kept the user's goals in mind and challenged my own design decisions by listing questions next to the screens. This method has been useful in my design process before moving to higher-fidelity wireframing.
Wait, how does a schedule work?
The low-fidelity sketches helped me realize I needed to think through how the new feature would interact with the existing daily activity tracking.
Would turning on the new feature move the current day's activity to yesterday?

What happens to tomorrow?

Does it need to last 24 hours?

What if I turn on a schedule when one is already running?
Let's test it to find out!
To start testing on users as soon as possible I created high-fidelity wireframes in order to maintain their focus on the flow of the new feature. I set up a prototype and began recruiting Apple Watch users.
I wanted to discover if users would have these same concerns and understand if they expected the feature to work a certain way.
Prototyping and testing
The night crew clocked into their shift to test the prototype. Moderated and unmoderated usability testing with 8 participants was conducted to gain actionable insights for further exploration. The goal was to determine if this new feature would provide value and solve the night shifter's biggest pain point with the Apple Watch: difficulty seeing their daily activity due to the midnight tracking reset.
Of the 8 participants, 6 worked or have worked nights, and 7 were Apple Watch users. The test objectives were focused on validating the concept, usability, and task flow.
A few of the high-fidelity wireframes used during testing

Test Results: Who closed last night?!
Feature confusion
If you've worked in a restaurant before, you'll be familiar with this situation. The day crew starts their shift in the morning, confused by misplaced items, and blames the night crew because things don't make sense. They exclaim "who closed last night?!"
I reflected on that experience while all users tested were able to 100% complete the tasks provided, there was a shared confusion about the schedule feature lasting 24 hours- it just didn't make sense. The users expected to see their activity from the portion of their day they were most active and they wanted to be able to set a beginning and end time.
Click here to see the unmoderated Maze testing results report.
Measuring success
Before moving forward with an iteration, I used UI design heuristics as a checklist to measure the success of the redesign with these points in mind:
Visibility of system status: present feedback as quickly as possible

Aesthetic and minimalist design: focus on the essentials and don't distract users with unnecessary information

Consistency and standards: users shouldn't be confused by experiences that are different than their expectations

Recognition rather than recall: try to minimize the use of the user's memory
Let's fix that feature confusion: design iteration
Research showed me that users' main goals were for a personalized experience, and they needed to see their daily activity in one spot and be able to easily understand it.
I used an affinity map and prioritized my usability test findings while the UI design heuristic points in mind.
In addition to adding an end time to the new schedule feature, the major changes are as follows:
Welcome to Active Hours
Customize your daily activity progress report. Set a schedule for your daily activity to view how much you moved, how many minutes of exercise you achieved, and how often you were standing, no matter what time of day it is. Close those rings on your schedule!
During your Active Hours schedule, you can view a snapshot of your activity on your Apple Watch. Turning on a schedule will provide a view of your activity from the start and end time you set.
Active Hours is easily found next to the Weekly summary and Goals

Captions clarify the feature is a snapshot view of your active times during the day

A home screen reinforces settings are saved

Schedules have an editable start and end time, label, and reminder

Multiple schedules can be saved

An alert notifies the user when the schedule begins

A persistent icon in the status bar lets the user know it's enabled

The activity graph reflects your set schedule hours


Try out the final product prototype
Click the link below to open the live Figma prototype.
Next Steps
Create iPhone screens to test the app interactions with the Apple Watch. My in-person usability testers expected they could manage the Active Hours scheduling in the same manner on the iPhone. I sketched some ideas about what those flows would look like and I intend on moving forward with that.
Once those screens are created, I'll test the watch and phone flows together with users.
Challenges
As I went through usability testing and realized I wasn't showing my thought process about the feature's mechanics through the UI design which was enlightening. It taught me to be very thoughtful about interactions and to test, not tell.
I believe I would've gathered richer data by testing on an actual Apple Watch. I tested a beta app but it didn't work well enough, which was a disappointment.
Key Takeaways
This project was fun and rewarding for me because of my background in Industrial Design. Blending hardware and software is a satisfying challenge and I love the immersion.
I also enjoy designing within an existing ecosphere. As an Apple Watch user, I have long wondered why features work a certain way, and going through this process I have a newfound appreciation for the WatchOS UI design.