Housemate
Productivity meets wellness. Creating an end-to-end household management app for roommates with a focus on strengthening their relationships to improve the quality of shared home life.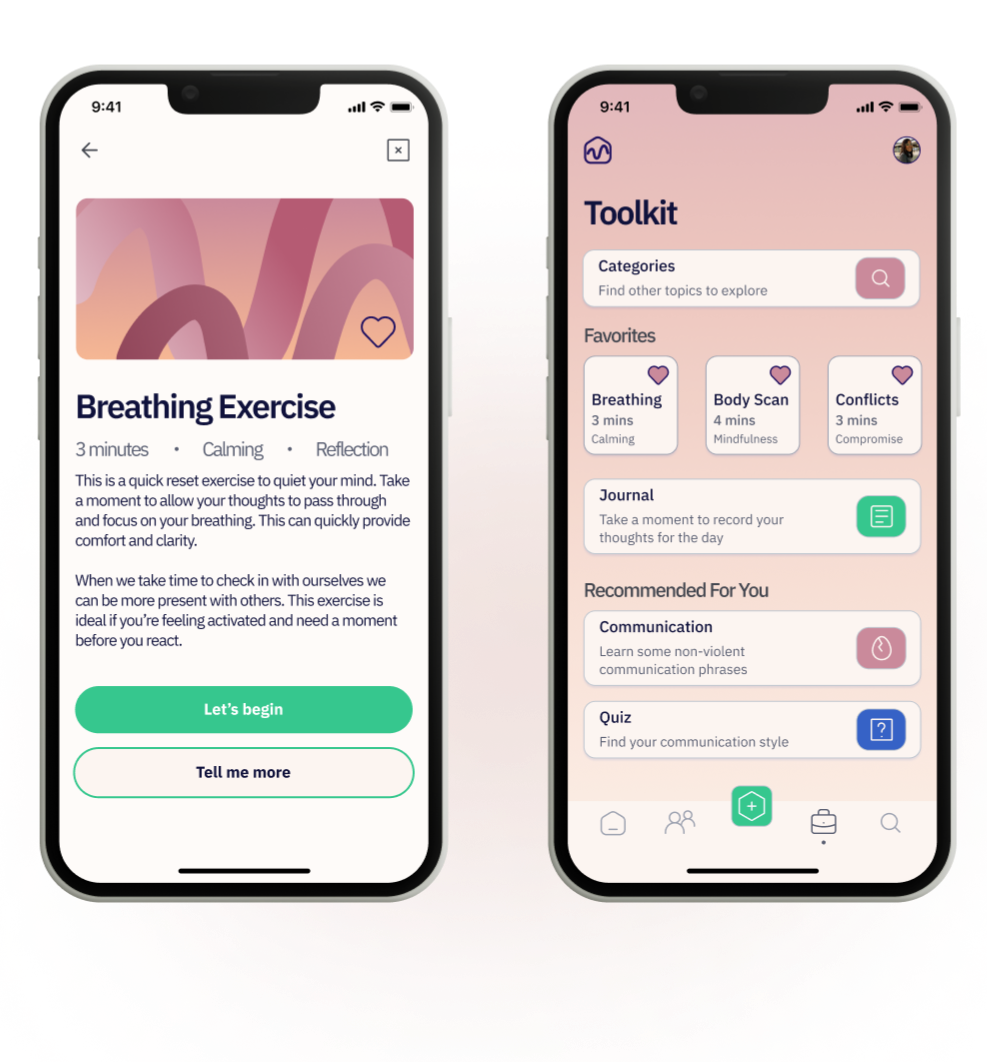 My Role
End-to-end UX/UI designer
User Research, Qualitative Data Synthesis, Strategy, Sketching, UI Design, Branding, Wireframing, Prototyping, Usability Testing
Tools
Figma, Figjam, pen and paper, Google Suite, Notion, Miro, Adobe Illustrator
Platform
Mobile iOS app
Timeline
2 weeks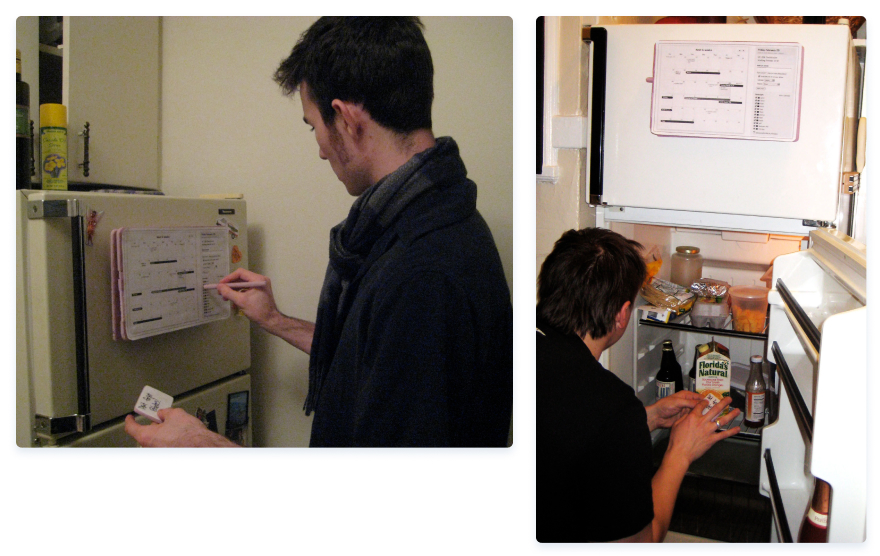 Overview
From Industrial Design to UX
In 2012 while in school for Industrial Design, I worked on a project that developed from hearing housemates having a difficult time getting things done together. I designed a central, physical device everyone could access for household management. The user interface was out of the scope for that project as the constraints were to design a piece of physical hardware to solve problems in the home. To challenge myself, I set out to create a mobile app as an evolution of that project to track my growth as a designer and to understand how users have changed in 10 years.
This project seeks to discover the problems people encounter when living together. I designed an end-to-end mobile app for roommates to solve some of those problems focusing on the core functionality of the app.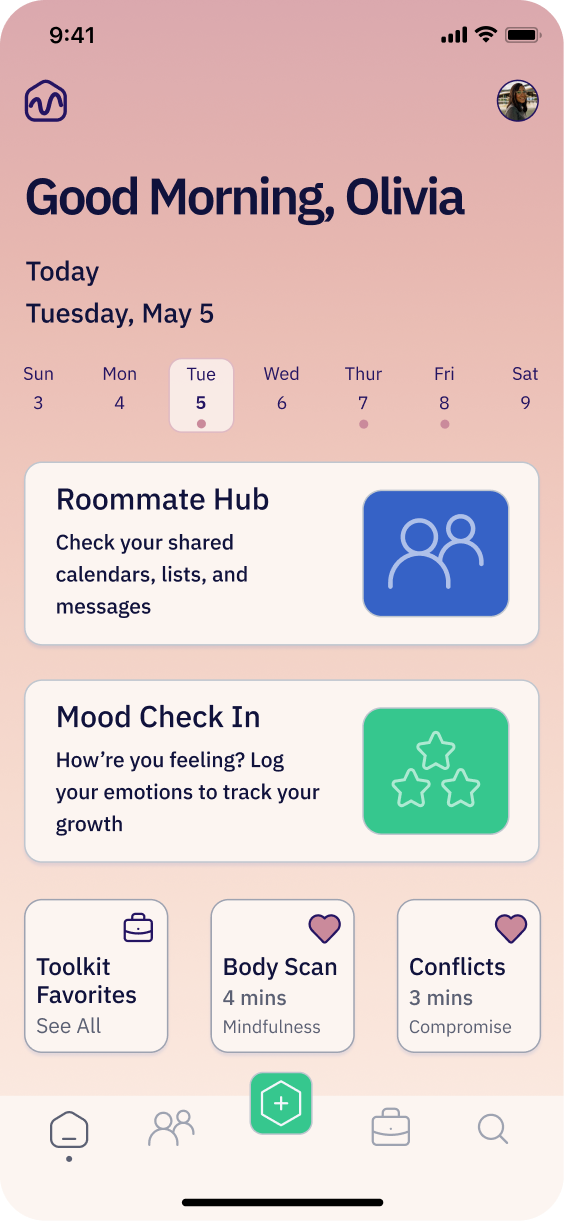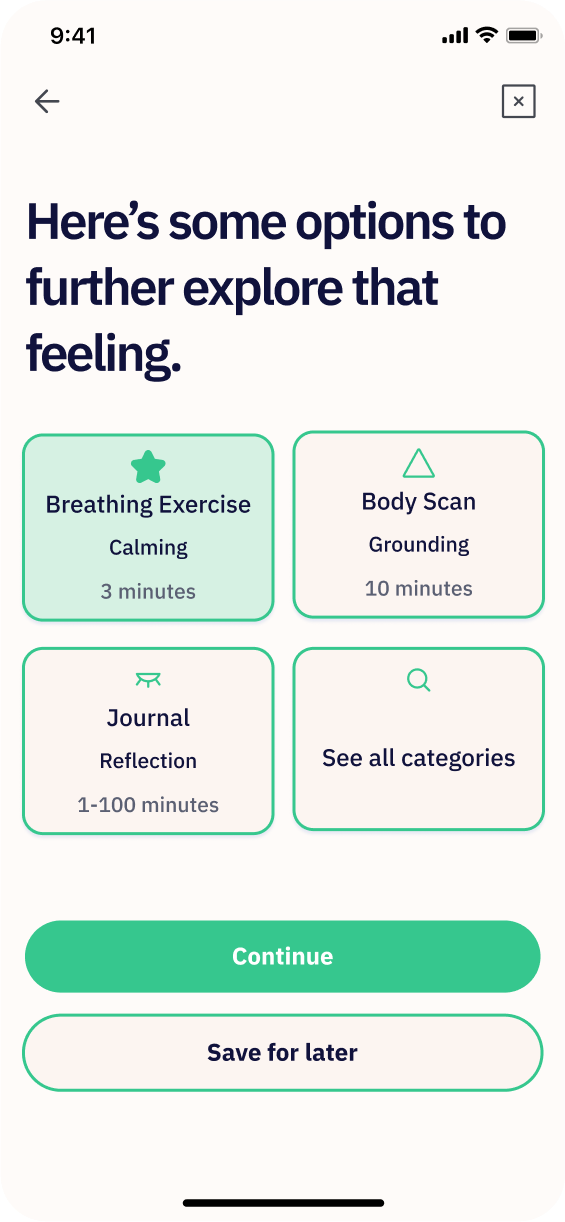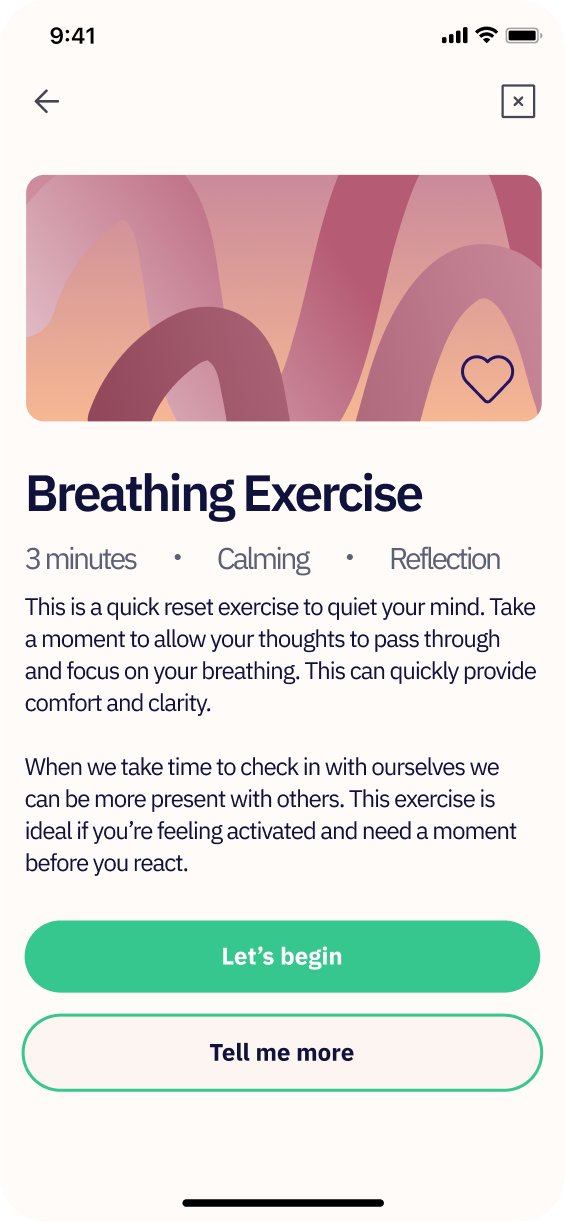 The assumed problem
Picking up where I left off from my school project, I assumed users experience challenges in their daily lives with household responsibilities and tasks, particularly when it comes to keeping track of participation, shared grocery lists, managing bills, and chore delegation.
I would quickly discover that was not the case.
Not another chore app, please
In-person and contextual inquiry interviews were conducted with 6 users who live with1-4 roommates for 2-8 years. The goal of testing this set of users was to understand what problems people have within the digital space when sharing groceries, assigning chores, and other participatory household tasks. The overwhelming response was that their household issues weren't because technology isn't working for them, it was that their communication and dynamics were strained for one reason or another.
All participants wanted something to change in the household dynamic but felt it was difficult because people handle conflict differently so they didn't know how to approach or solve the issues.
The experts agreed
After hearing about communication issues and realizing my initial problem assumption was invalid, I then conducted secondary research and interviewed 2 subject matter experts.
Who knows better about relationship dynamics than a therapist? I discussed the user interview findings with two therapists who noted:
People are not taught how to navigate the types of conflicts or tensions that arise when sharing a home, especially if your housemate is not your romantic partner

Developing ways to cope with stress and regulate your own emotions will improve your relationships

Existing products and practices focus on solving issues for heteronormative romantic couples

There is a growing trend for people to be living with roommates and not romantic partners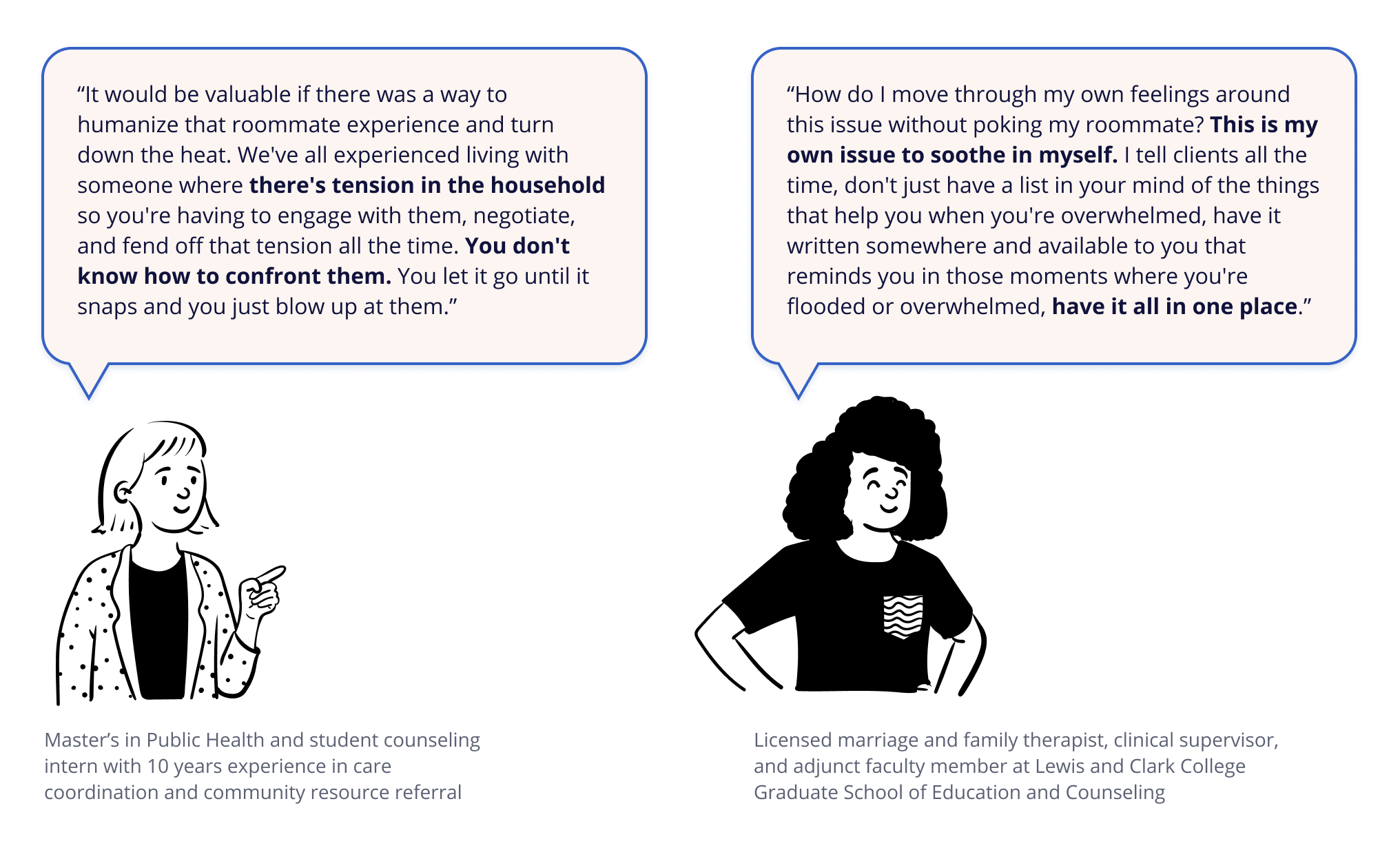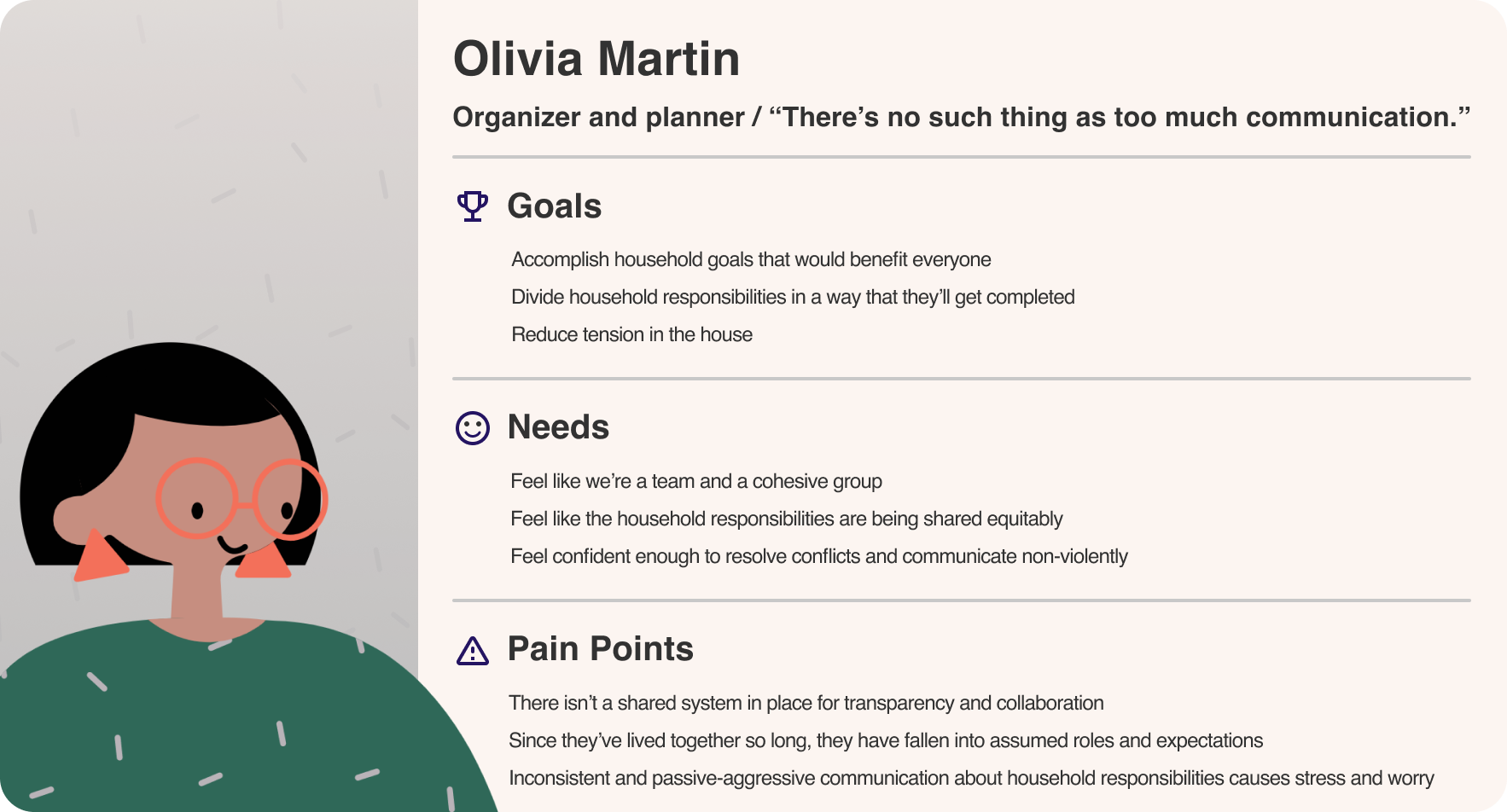 Who is this roommate?
Talking to the subject matter experts revealed there is a need for people who share a household with non-romantic partners to improve their communication and conflict resolution skills. User interviews showed me there is an interest in this as well so Olivia Martin was developed in order to focus on the user who represents those aspects.
Olivia uses wellness apps to build better habits

She wants to feel confident enough to resolve conflicts

She's fallen into the house "leader" role and is tired of her roommates overly relying on her and not sharing the household workload
What did the research show me?
I synthesized the conversations with users and experts along with my secondary research using an affinity map which revealed the challenges users have within shared households aren't from missing chore delegation tools, but instead, it's a matter of living a cohesive, harmonious life with their roommates.
The users don't know how to effectively communicate their issues with sharing responsibilities and space which creates a disjointed, tense household.
Poor Communication
The challenges long-term roommates experience stem from poor communication and a lack of desire to work together after falling into patterns and rhythms over the years. All those interviewed wanted to change their dynamic.
Shared Tools and Better Habits
100% of the users interviewed currently share their digital lives, whether it's a calendar, spreadsheet, or lists.
The majority of users were willing to put in work to change their own behavior and currently use apps to track their progress or growth.
Self Reflection and Deactivation
You are only in charge of your own experience. It's beneficial to find ways to reflect on your own reaction to an emotional response and think about what it's telling you, rather than blaming another person. There are many methods centered around checking in with yourself and self-soothing.
App Opportunity and Added Value
Subject matter experts agreed there is an opportunity for apps to help non-romantic relationships since the existing apps are targeted toward romantic relationships, and having access to quick and easy exercises to reflect on your own emotional experience is valuable.
The actual problem for roommates
I discovered roommates often don't feel respected or heard and that the household responsibilities are unevenly distributed but they don't feel confident enough to work through the issues together.
How could I help roommates manage their household responsibilities while focusing on strengthening their relationships for a more cohesive shared home life?
The Concept
Combine the research's key findings to increase the quality of life for roommates: productivity meets wellness app.
The goal is to provide a platform for household collaboration and transparency through calendar and note sharing while strengthening their relationships by learning conflict resolution skills. A space for roommates to get things done together while improving their own individual lives. Using clinical research the app will guide users through check-ins to determine which actionable insights would help them resolve their immediate issues.
With this solution in mind, I needed to validate the concept as soon as possible. I focused on the primary task for early app adopters in order to conduct testing.
The solution design process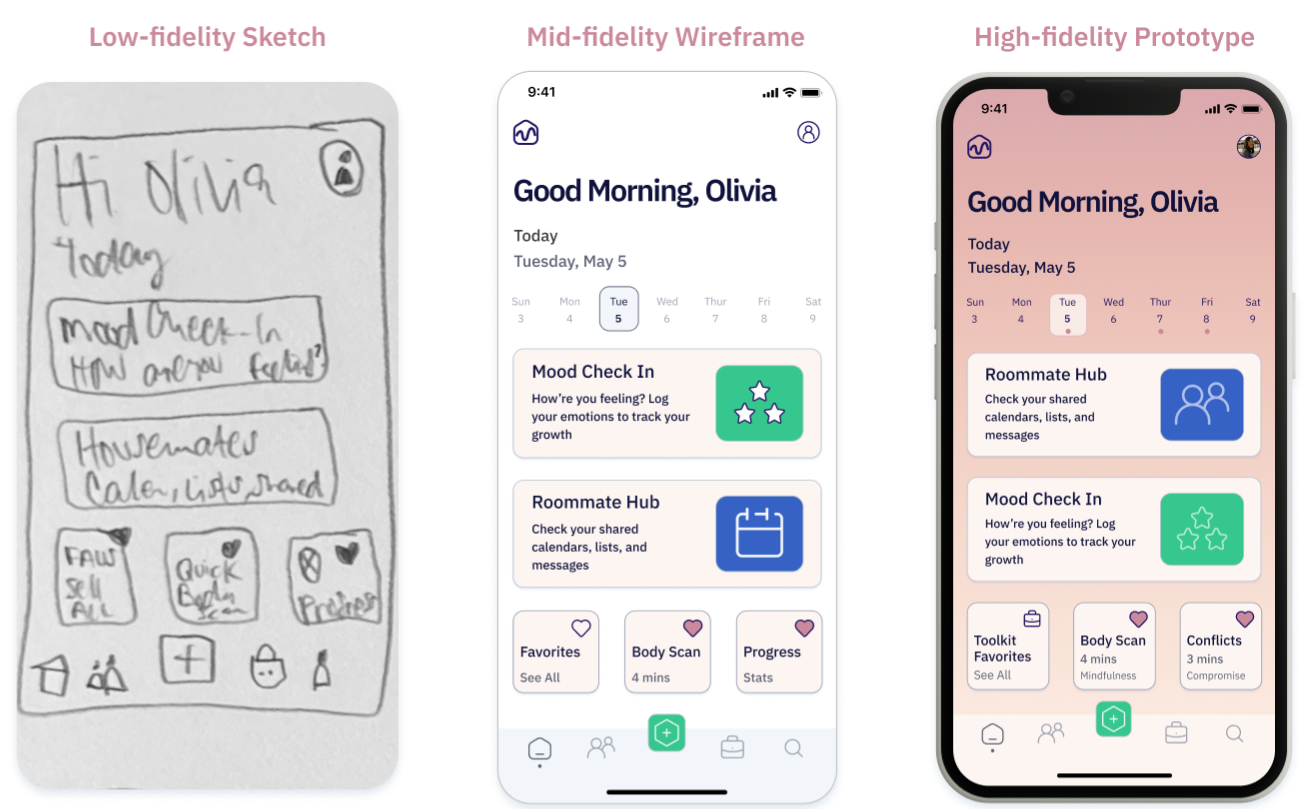 Mapping it out
The app has two primary tasks: collaborating with your roommates and self-reflection. I needed to understand how those tasks would interact so I created a simple sitemap. Using this while sketching user and task flows helped me to understand which task to design first.
Using the sitemap I determined that I needed to understand the value users felt from the wellness aspect before the roommate collaboration aspect so I moved forward with creating wireframes based on existing design patterns within wellness apps.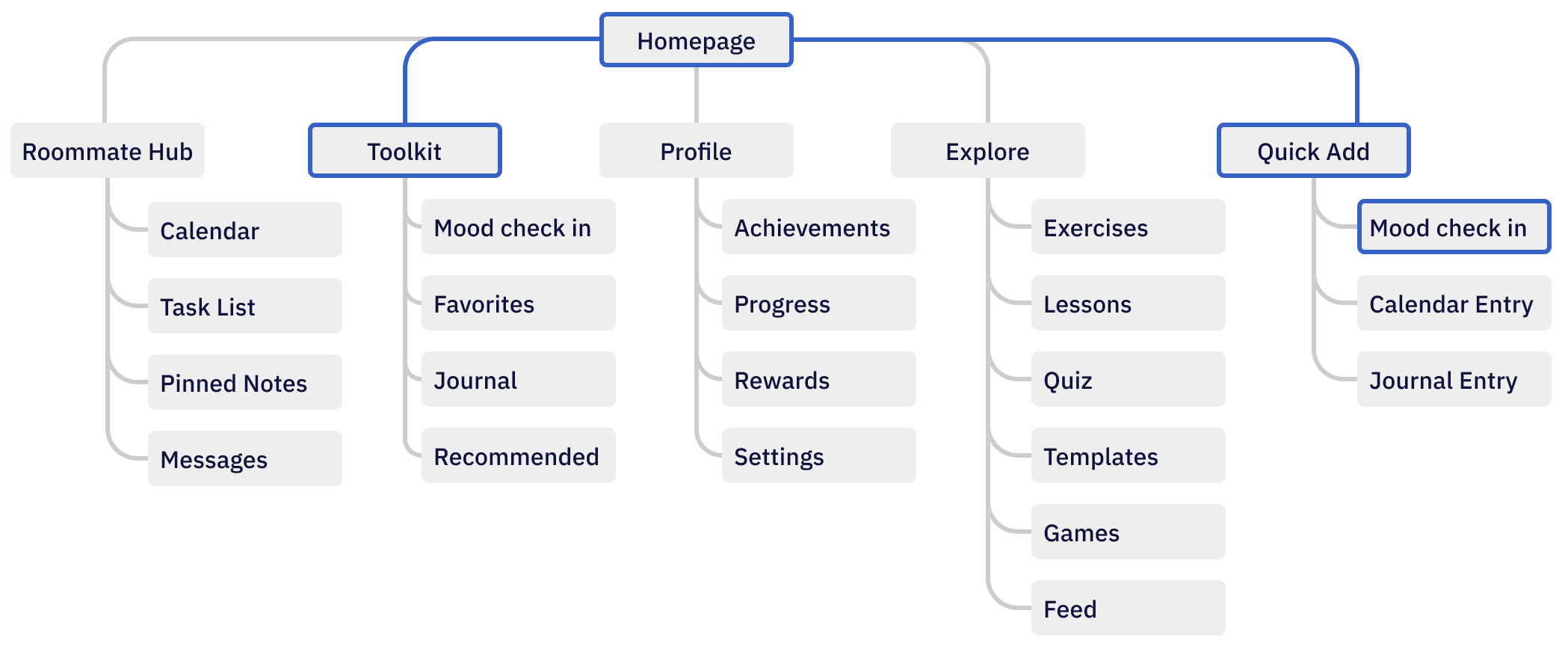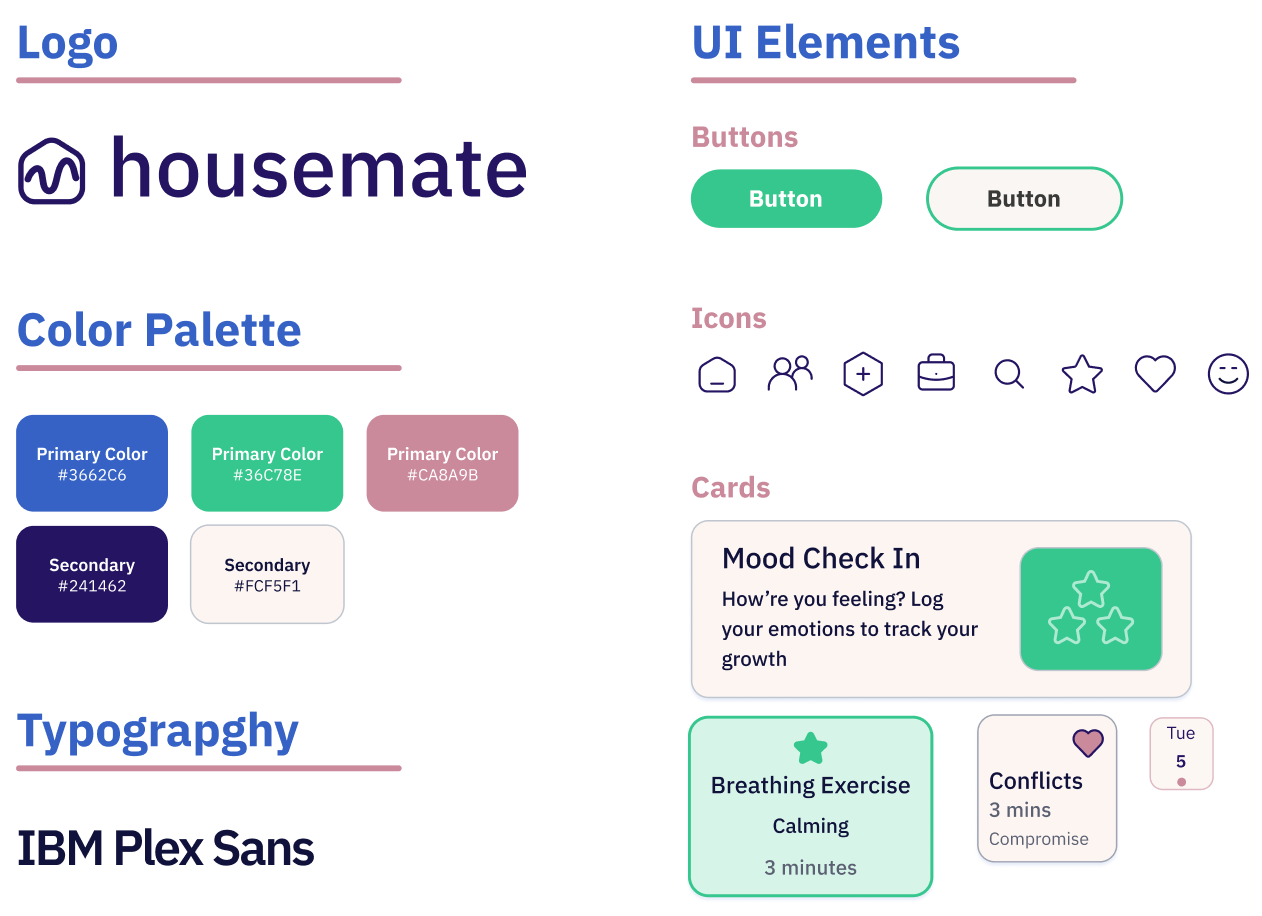 Branding with wellness in mind
I considered the ethos of an app that would encourage people to live a more intentionally shared home life and referenced learnings from my subject matter experts to create branding and a simple UI kit.
The polyvagal theory model shows the human response stages (social engagement, fight, flight, freeze, deactivation) which are visually depicted as a rolling hill or wave shape. The logo was designed to mimic that model as the main goal of the Housemate app is to encourage roommates to move through their shared emotional experiences to provide harmony

The color palette uses blue and green for a calm and safe feeling as harmony is a central theme for Housemate

The IBM Plex typeface, neutral, yet friendly, trustworthy, and approachable, was created to illustrate the unique relationship between mankind and machine, much like using a digital app for emotional growth
Prototype testing process
In order to validate the app's concept, I first tested mid-fi wireframes with users which included my subject matter experts. Testing with the experts first would be beneficial as they would view the self-reflection flow with a critical eye.
I made revisions based on their feedback and then tested with a different set of users in order to gain quantitative feedback.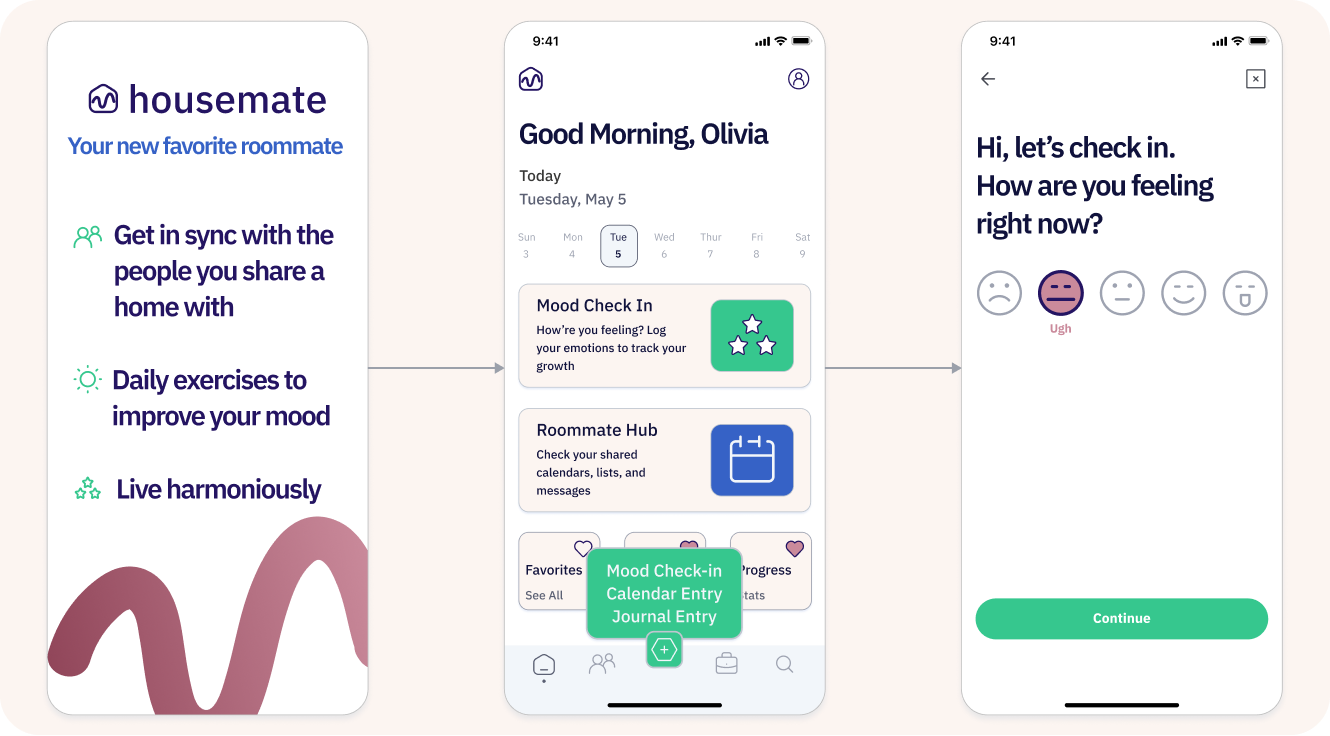 Usability Testing
Two rounds of testing were conducted with 6 users, 2 of which were my subject matter experts, in order to validate the concept, the user flow, visual elements, and the UX writing.
To begin concept validation and as a quick introduction, I asked the users to put on the shoes of Olivia, the target user, and imagine they came across an Instagram advertisement for the app Housemate. Olivia's been looking for a way to learn better communicate with roommates to ease tension in the house.
The other objectives and goals of testing were:
Test if users can easily complete the mood check-in

Evaluate their understanding and expectations of the homescreen

Understand if the concept provided value to the user
Usability Tests Key Findings
After synthesizing the feedback with a prioritization matrix, these are the most important findings:
User flow was valuable
Subject matter experts found value in the flow because it shows how the user can utilize this app when they need a quick exercise to calm down. They noted it was simple and easy enough to encourage the user to return.
The concept was mostly understood
The Instagram ad helped explain the concept but all users wanted to see the Roommate Hub screens to understand how the two tasks would work together.
Meet Housemate
An all-in-one household management app to increase your collaboration and transparency with roommates while improving your quality of shared home life.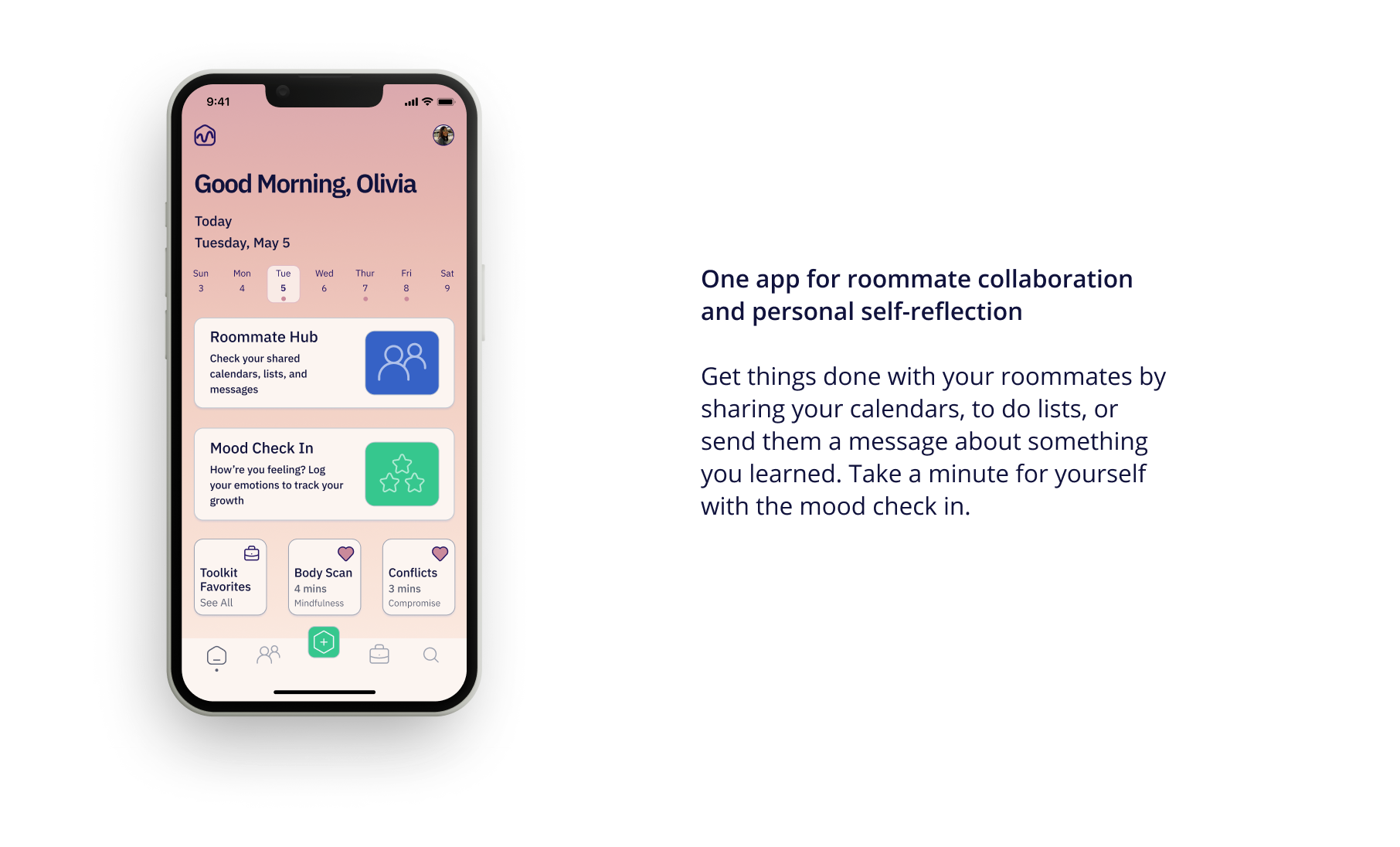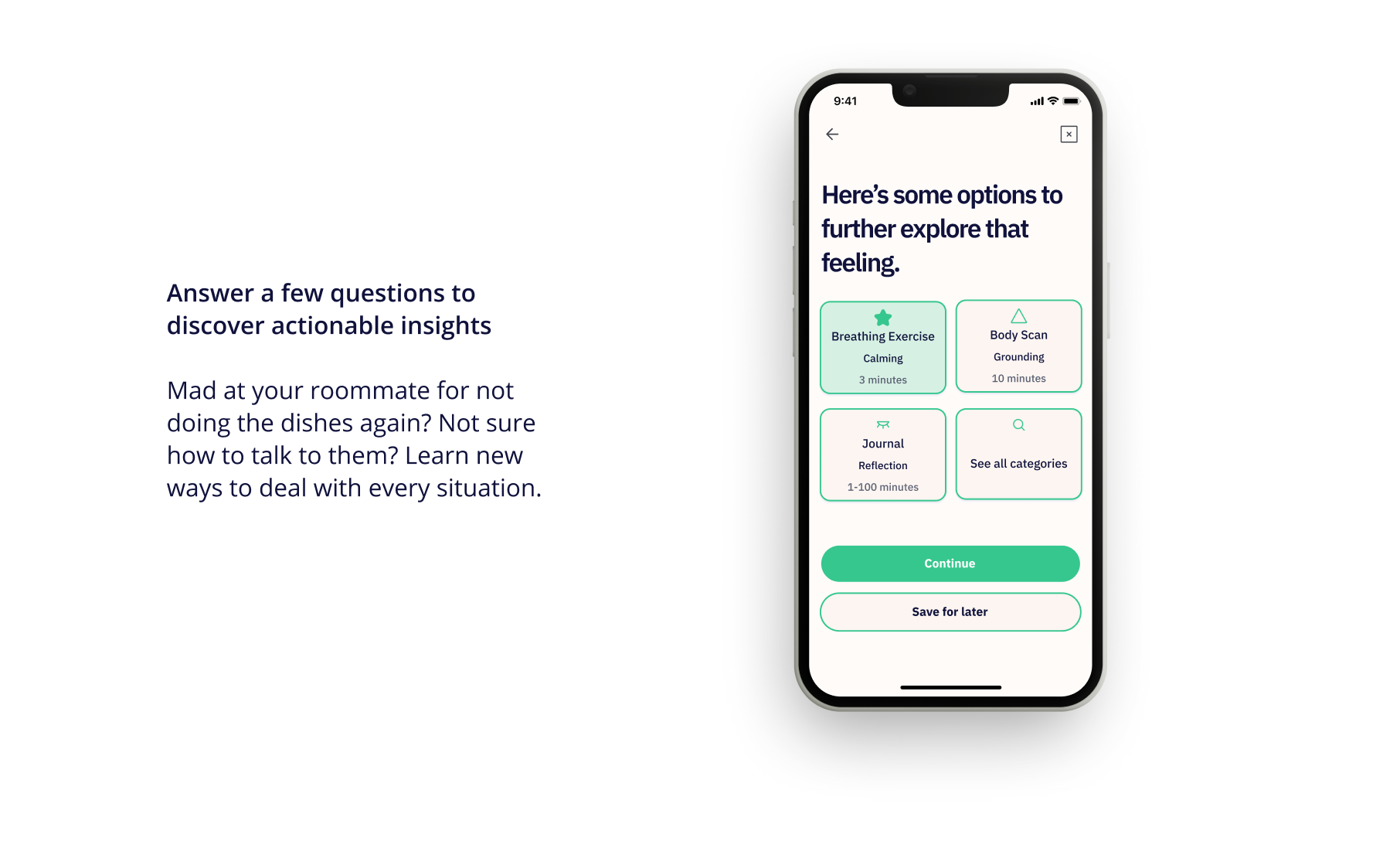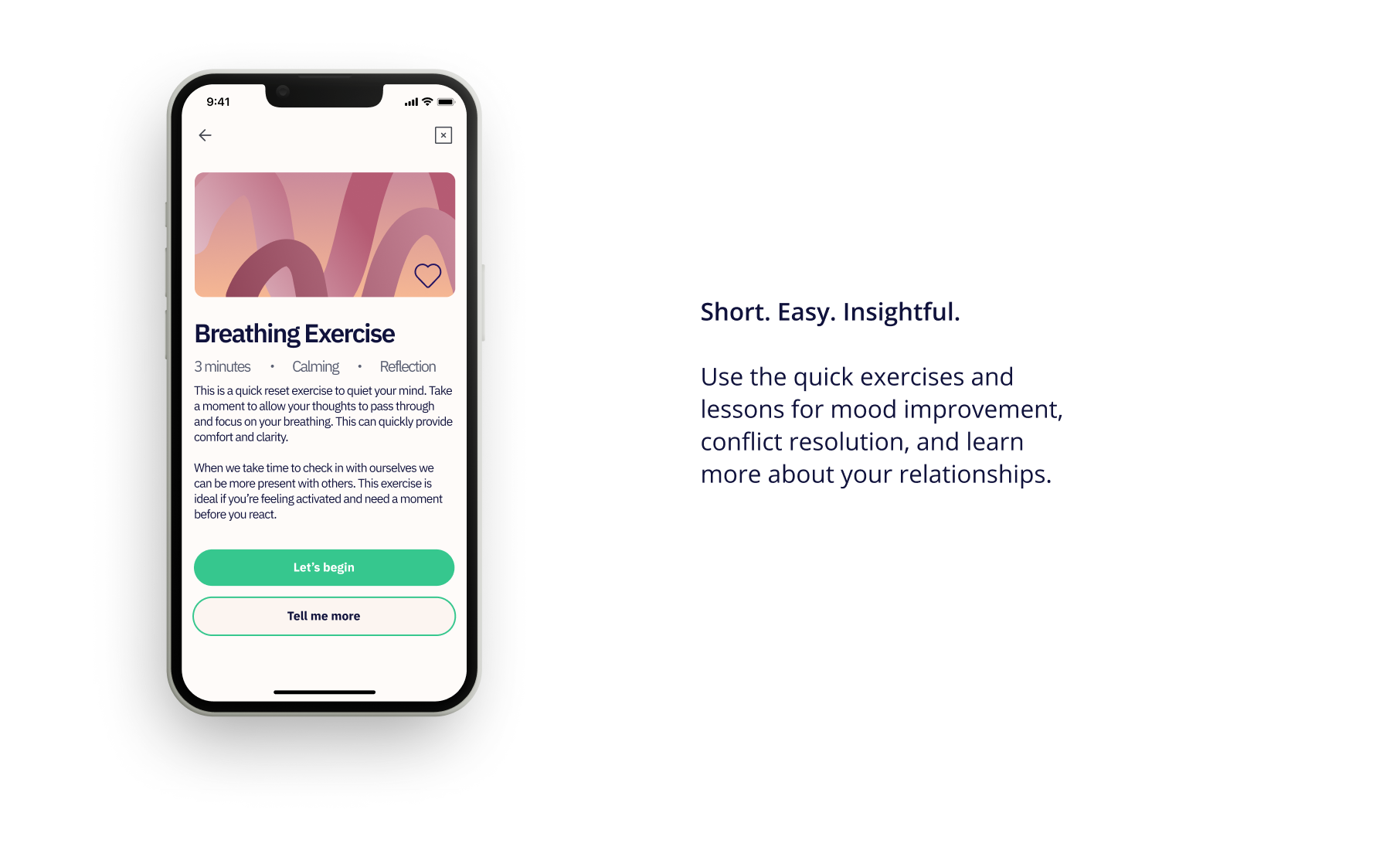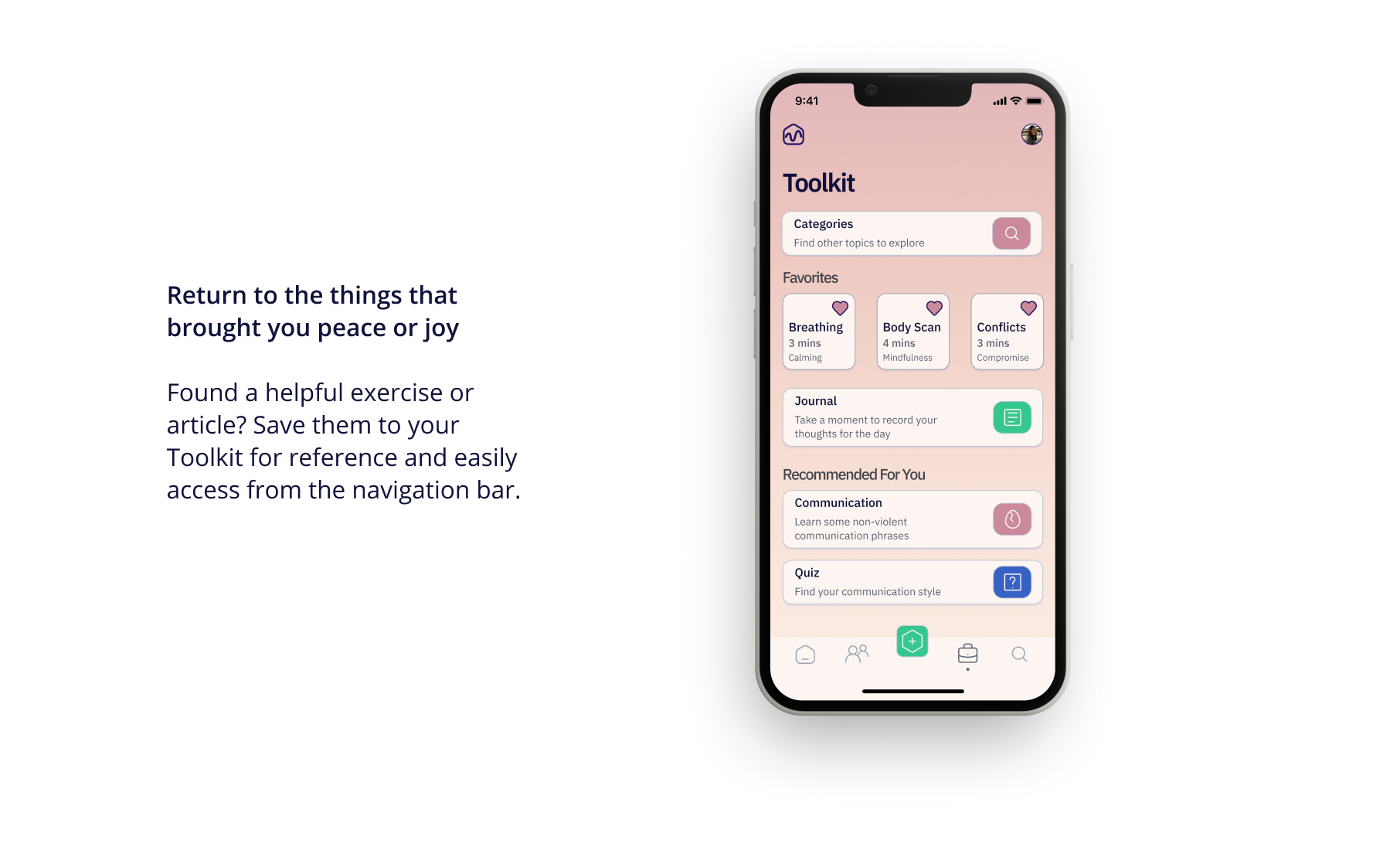 Proposed Next Steps
Fully design the roommate collaboration side of the app since concept validation testing results were mixed.
Test with more users unfamiliar with the project to continue to gather qualitative data.
Challenges
People have to be willing to put in the effort to change their behavior and habits. I found this project showed me it could be challenging to research sensitive subjects especially if the user is unwilling to put forth that effort. I was met with some resistance when discussing personal emotional growth with one user which taught me the importance of thoughtfully crafting interview questions.
The two-week timeline constraint pushed me to focus on quickly finding solutions and prioritize only one aspect of this dual-aspect app. Choosing this focus was easier with consistent subject matter expert feedback but I would have loved to test the complete app concept.
Key takeaways
What starts as a seed grows into a tree. A small idea can become much more complex once you ask the right questions. This project taught me that being able to pivot when your assumptions are misguided is extremely important. I've always loved research and strategy but this project taught me how valuable those aspects are, especially when beginning with an ambiguous idea.
Technology won't save relationships but effort, participation, and communication will. Deciding when and how to navigate your own emotional experience is incredibly subjective. The most interesting takeaway from the research was hearing people's assumptions and judgments about using technology to aid their relationships. This process has provided ample self-reflection about my own relationships, for which I'm thankful.
A note about tech and therapy
Technology is not intended to solve all your problems but it can be a valuable tool. Technology will always have its limitations so to get personalized care and support, talking to a licensed professional is recommended. Therapy isn't only for people having a hard time, therapists are equally interested in what's going well. Talk therapy can boost your confidence, reduce stress, help you show up more intentionally in your relationships, and you will likely see a positive impact in every aspect of your life. Like most anything, sometimes the hardest part of therapy is just getting started.
Here are a few resources for getting started: